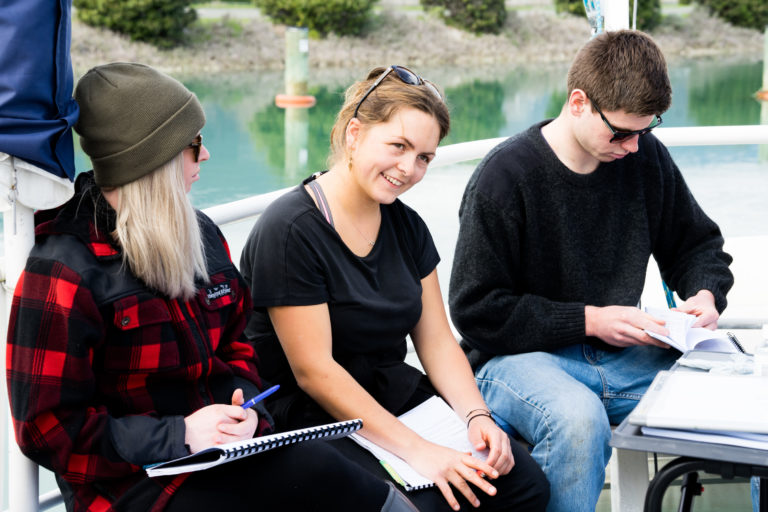 4 Tips to Prepare for Your Skipper's Course
Although skippers' courses in NZ cover a wide range of topics, there are still several things you can do in advance to prepare for your course.
In this article, we've outlined four key steps you can take before your skipper's course to make sure it's smooth sailing.
This includes getting practical experience on the water, doing your medical beforehand, studying up on the different vessel lights and day shapes, and bringing a great attitude to the job at hand.
Let's explore each of these steps in more detail.
1. Get Experience on the Water
Although the SRL course has a sea time requirement of 200 hours (or 25 days), you can never bring too much experience.
In fact, obtaining your ticket is only a small step towards becoming a competent skipper. The best skippers are made by years of practical, hands-on experience. Just like driving a car.
The more experience you have out on the water, the better equipped you are to deal with any situation thrown at you. Whether it's to do with processes on the boat, technical maintenance, managing your crew, or adapting to less favourable wind and weather conditions.
One of the best ways to gain valuable experience on the water is by volunteering on a boat.
No matter if it's a sailing boat, fishing boat, workboat, tourism boat, or any other commercial vessel, spending some time volunteering on a boat (or several if possible) will give you insights and experience that can't be obtained in the classroom.
The more roles you can take on while volunteering the better! This will put you well ahead of the game when it comes to doing your skippers course and will make you a better (and highly sought after) captain from the get-go.
2. Do Your Medical Beforehand
Just like pilots, skippers need to prove that they meet the required medical and eyesight standards to operate safely.
Unfortunately, we've seen a student fail their medical after successfully completing their skipper's course. Which meant their whole effort was wasted.
To avoid disappointment, we recommend that you get your medical and eyesight checks before starting your skipper's course.
The medical standards and requirements depend on the type of certificate you're pursuing. For example, you can go to your regular GP to complete your medical check for a national skipper's certificate but, for an international certificate, you'll need to find an approved medical practitioner and complete a more expensive exam.
You can find out more about the medical and eyesight requirements for seafarers on the maritime NZ website.
3. Learn to Recognise Vessel Lights and Day Shapes
Vessels use different patterns of lights (at night) and shapes (during the day) to show other boats their operational status.
The meanings of the shape and light combinations are defined by the International Regulations for Preventing Collisions at Sea (ColRegs). In New Zealand, these have been adopted under the Maritime Transport Act 1994 and written as Rules. You can look up these collision prevention rules on the Maritime New Zealand website.
Some common operational signals include the vessel being under sail and power (cone), anchored (ball), aground (three balls in a vertical line), not under command (two balls in a vertical line), fishing (two cones in a vertical line), towing or being towed for a long tow of >200m (diamond).
As a skipper, you'll need to know these and many more signals using both vessel lights (from sunset to sunrise) and day shapes (from sunrise to sunset).
This is something you need to learn off by heart, and we recommend you memorise at least the most common constellations of lights and shapes and what they mean before you start your skipper's course. A great way to go about this is using learning tools like an app or picking up some flashcards. Better yet, make your own flashcards.
Whoever you choose to study with, coming prepared and being able to easily recognise vessel lights and day shapes puts you a step ahead, as you won't have to keep looking them up during the course.
4. Be Ready to Learn and Challenge Yourself
Like any new endeavour, gaining your skipper's licence can seem like a challenging task. But coming prepared will make all the difference.
So far, we've touched on all the "things" you can do to prepare for your skipper's course but being mentally prepared is equally important.
One of the key traits we see in students who become successful skippers is their positive attitude and willingness to learn.
We encourage all students – whether they're experienced seafarers or just starting out – to ask lots of questions and challenge themselves to learn new things.
The more engaged you are in the process, the more you'll get out of the course. That's why one of the best things you can do to prepare for your skipper's course is to come prepared to learn, challenge yourself, and have fun in the process.
Wrapping up
If you're serious about becoming a skipper and pursuing a career in the maritime industry, then we can help you get started.
We offer the Skippers Restricted Limits training course (officially called Certificate in Domestic Maritime Operations), which equips you with the skills and knowledge you need to launch your maritime career.
From the time you enrol, you'll be assigned to one of our qualified tutors and we recommend that you make use of their knowledge and experience.
They can help you complete your activity book before you attend the block course, which will help you get the most out of your time in the classroom and on the boat.
If you're interested in getting your SRL certificate, check out the course requirements, and feel free to contact us if you have any questions or would like more information.
Or browse our other skipper course options to find the best fit for you.