Emergencies happen, but your actions decide the outcome
This course is approved by Yachting New Zealand and Maritime New Zealand.
*This is not an NZQA acreditied course.
Critical situations can arise on the water and knowing how to act can make all the difference in the outcome.
That's why sea survival training is crucial for anyone who works on or around the water and is a mandatory requirement for skippers and crew heading offshore and overseas, or competing in offshore (category 1) races.
Our Advanced Sea Survival course equips you with theoretical knowledge (classroom), practical knowledge (wet drills) and cover a wide range of emergency scenarios to survive at sea.
"…informative and excellent training presented in a sincere but extremely friendly and supportive manner."
Ben C.
This course covers the following training areas:
History, statistics, and legislation
Accidents and emergencies
Equipment
Safety and emergency planning
Risk assessment
Man overboard, life rafts and equipment
Distress signals and responsibilities
Practical wet drills with a liferaft
SAR systems and responsibilities
Fire precautions and fire fighting
Medical care aboard
Damage control
Weather and forecasting
Heavy weather techniques
Storm sails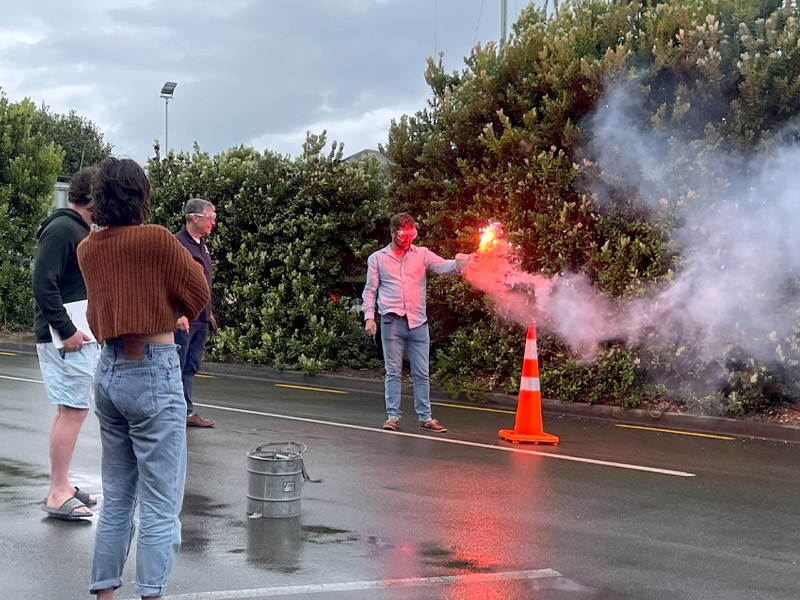 Students in action learning about flares.
| | Advanced Sea Survival |
| --- | --- |
| Qualification | Advanced Sea Survival Certificate valid for 5 years accredited by Yachting New Zealand and recognised by World Sailing and Maritime NZ. This certificate is required by Maritime NZ for 30% of the crew from recreational launches and yachts heading offshore and is not an NZQA accredited course. |
| Course requirements | None, though some water confidence is required for the pool drills when we'll be swimming and working with a real liferaft. |
| Course duration | Two-day comprehensive theoretical and practical course |
| Cost | Check the ticket price |
*Please note this is not an NZQA accredited course.