We're proud to operate New Zealand's first dedicated skipper training vessel.
This is the story of Lifeboat 52-18.
52-18, an Arun class lifeboat, was built in 1980 for the RNLI and operated out of the St Mary's Lifeboat Station on the Isles of Scilly. After many years of rescuing mariners in the North Atlantic, it was eventually brought to New Zealand. After a decade on the dock, it's now finally back in action.
The Facts
Class: Arun class lifeboat
Designer: GL Watson/RNLI
Builder: William Osbourne and Halmatic, UK
Client: Royal National Lifeboat Institution
Date of build: 1980
Displacement: 33 tons
Length: 15.8m
Beam: 5.2m
Draught: 1.5m
Propulsion: 2 x 3408TA V-8 Catepillars, 485hp @ 2100rpm
Maximum speed: 18.5 knots
Fuel: 2800 litres
Range of stability: 180 degrees
Fire pump: Gilkes, plus a portable Yanmar flood/fire pump
Welcome aboard. Have a look around using our virtual tour.
The Early Years at St Mary's Lifeboat Station
Lifeboat 52-18 (Robert Edgar) was stationed at St Mary's RNLI Lifeboat station in Isles of Scilly from 1981 until 1997.
Lifeboat 52-18 (Robert Edgar) was stationed at St Mary's RNLI Lifeboat station in Isles of Scilly from 1981 until 1997.
46 Arun lifeboats like 52-18 were built between 1971 and 1990. Her speed, power, and maneuverability are impressive for a vessel of her time, and she has carried out some spectacular rescues.
The vessel has 29 watertight compartments and is designed to initiate self-righting in the event of a capsize – although, luckily, no Arun class lifeboat has ever been in this situation except when rolled in a controlled test.
Helmsmen can steer from inside the wheelhouse or from a flying bridge on top of the vessel, with intercom links connecting to wheelhouse, survivors' cabins, and the deck by two-way speakers.
She has two survivors' cabins and was designed to take up to 30 survivors in rough weather and up to 160 survivors in calm conditions. The fiberglass double hull has extra floatation, and the aluminum superstructure is light and watertight to ensure righting.
The Arun class lifeboat is considered one of the finest and safest vessels ever produced by the RNLI.
The Vessel
52-18 is a 15m Arun Class lifeboat with a beam of 5.2m, weighing 35tons.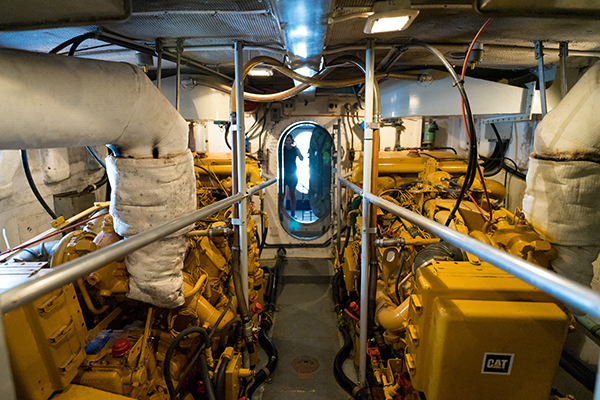 This class of lifeboat is fitted with two 4 bladed counter rotating propellers and two 500hp 18L CATERPILLAR V8 turbocharged engines producing a max speed of 18.5 knots, which made them twice as fast as any of the earlier lifeboats due to their semi-plaining hull form. They can operate in almost any weather conditions.
52-18 is fitted with SSB, VHF fixed and mobile radios, pulse and FMCW radars with a 32" controllable display for students, Radio Direction Finder, auto pilot, 2x GPS, Chart plotter, 3x depth sounders and more navigational and safety electronics. The military-grade Decca Radar scanner is designed to automatically shut off in the event of a capsize and is fully watertight so it can be put back to use after the vessel has self-righted. Mercury switches are also fitted to the engines, so if the vessel capsizes the engines will be restricted to idle until she rights.
The wheelhouse has 7 dedicated seats for crew positions, including Skipper (coxswain), Helmsman, Navigator, Radio Operator, Engineer and Medic. Some of these have been removed now to make room for students to move around.
The Journey to New Zealand and Life in Northland
After a total of over 20 years' service, including 16 years at St Mary's and 3 years at Weymouth, the vessel was completely refit by the RNLI so she could continue on as a lifeboat.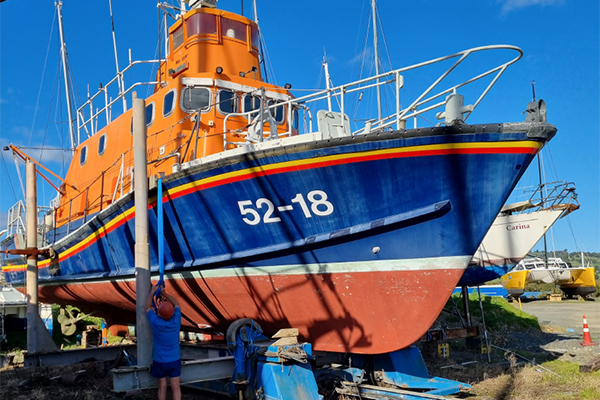 But then, in 2003, she was sold to Brian Angliss, who had her shipped to New Zealand.
She spent the past 12 years on the hard at Norsand Boatyard in Whangarei where she garnered considerable interest from people looking for a solid cruising boat but that would have required a substantial conversion.
The engines had only clocked up 350hrs when we bought her in September 2021.
A New Beginning at Skipper Training NZ
When we saw 52-18 for sale in 2021, we were excited by the prospect of using it as a dedicated skipper training vessel on our courses.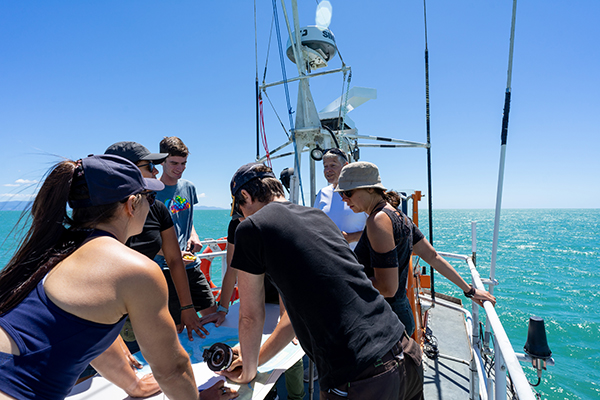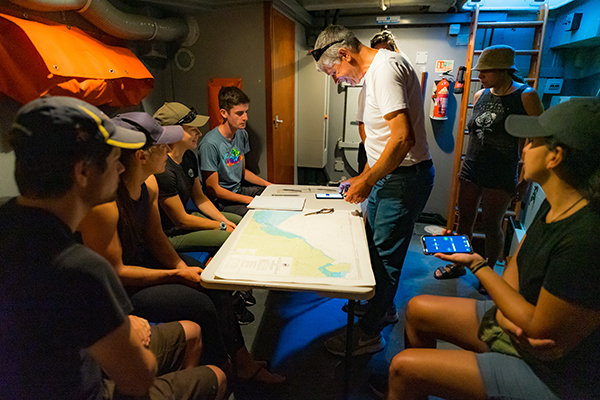 While it looked perfect on paper, it was unclear how much maintenance work would be needed to get the vessel back up to scratch after so many years in the boatyard.
We wanted to inspect the boat and put an offer in. But then the entire country went into lockdown in August 2021, and there was no way we could travel to Northland.
So, we had a tough decision to make. Should we make an offer and buy the vessel sight unseen? We discussed our options and the potential risks and benefits as a team, realising that the boat could either become the perfect training vessel or a double-hulled bottomless pit.
But we decided that the benefits ultimately outweighed the risks associated with buying the boat unseen and went ahead with the purchase. You can imagine our relief and joy when we finally got the boat into the water and the engines ran flawlessly.
Lifeboat 52-18 has been receiving a lot of TLC and we've made some minor changes to make it even more suitable as a training vessel.
For now, it will stay in Nelson near the STNZ head office, but with trainers throughout the country, including Dunedin, Lyttleton, Nelson, Wellington, Tauranga, Auckland and Northland, it will be put to good use as a dedicated training vessel.
We are excited about our new vessel and hope that it will help bring about a shift in the industry towards giving students the best possible hands-on training.
TALK TO US ABOUT YOUR MARITIME CAREER...