Keen to start working on the water as soon as possible?
The Qualified Deck Crew program builds the knowledge and confidence of crew members to foster competent, qualified, skilled, and safety conscious individuals that contribute to a safer environment on board vessels and safe working practices.
This training will be provided by Skipper Training NZ. We will help you complete your training record book and prepare for your final oral exam with Maritime NZ.
Start any time if you're working on a boat already, or complete a block course in Nelson on our training vessels, or join the Tourism Operations Certificate course with QRC in the Bay of Islands.
Qualified Deck Crew training is a great way to kickstart your maritime career.
Please Contact us if you would like to explore this option.
2 weeks training in Nelson or complete any time in your own workplace
Learn on our training vessels, or with your employer
We can come to you (if you cover the costs)
Includes MRROC (radio)
Complete the QDC training in preparation for the final exam
QDC is recognised by AMSA as equivalent to General Purpose Hand (GPH) in Australia
Note: First Aid training is an extra cost. You must be at least 16 years old, pass a medical and eyesight test and be a "fit and proper person". Call us, or check out the Maritime NZ website for details. This training will help you complete your MNZ Training and Record Book and prepare you for the QDC Oral Exam. It is not an NZQA course, so while it's a bit more expensive than others, we can be a lot more flexible in the delivery to make sure it's engaging and the most efficient use of your time.
After gaining sufficient sea time and experience, this is how your maritime career could progress: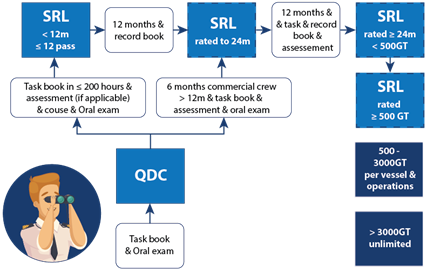 (Image adapted from Maritime New Zealand, Seafarer Training Record Book for Qualified Deck Crew Certificate (QDC) of Proficiency, Page 6)
*This is not an NZQA registered course
QRC Tourism Operations Certificate (Level 4)
We are also delivering QDC training as part of the QRC Tourism Operations Certificate (Level 4). This will help you understand the importance of customer service and creating great experiences in the dynamic tourism industry. You will explore the concepts of Manaakitanga and Whanaungatanga and learn how these are applied in a professional tourism and hospitality context. Check out the QRC website for more details

Qualified Deck Crew Course Requirements
To be awarded the QDC Certificate you will need to meet the following requirements:
Complete the QDC training record book
Have the required ancillary certificates
Pass Maritime NZ's final exam
Prove that you are a fit and proper person
Be medically fit and have good eyesight (visual acuity and colour vision)
If you would like to learn more, or think you're ready to enrol, please call us on 0800 546 9700 or email [email protected]